Speaker Lineup Like No Other.
Inspiration Unlimited.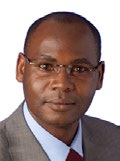 Geoffrey Mabea
Executive Secretary
Energy Regulators Association of East Africa
Dr. Geoffrey Mabea born on 13 May 1979, is a Kenyan national with vast experience in the energy sector. He is a Chevening alumnus who has served in various capacities in the energy sector in Kenya as well as in international organisations as a consultant. He has worked in the power sector in Northern Corridor Countries having worked as a GIS analyst (KenGen), Drilling Planning Engineer (GDC), National Power Planning Committee Member (Kenya), Chief Engineer Corporate Planning and Strategy (GDC), Regional Power Projects Coordinator (Northern Corridor Countries) and as an Energy and Capital Projects Advisor with PwC Kenya. He was appointed as the new Executive Secretary of the Energy Regulators Association of East Africa to spearhead realisation of Energy Union for East Africa countries .
The Executive Secretary presides over the day to day operations of the EREA Secretariat, advises the Executive Council on policy issues related to harmonisation of energy regulatory frameworks of National Regulatory Institutions. The Executive Secretariat ensures the smooth running of the Secretariat and is in charge of administration and finance.
The Executive Secretary is elected by the Executive Council for a three-year term, renewable once.