Speaker Lineup Like No Other.
Inspiration Unlimited.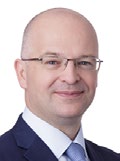 Ray McLaughlin
Head of Capital Markets
Mainstream Renewable Power, Singapore
With over 18 years in the asset management and banking sectors, Ray is passionate about the global sustainable energy transition and has originated and structured multiple investments into the renewable energy industry through his strong professional network encompassing some of the world's largest financial institutions, sovereign wealth funds and family offices. Ray's experience includes roles in Royal Bank of Scotland (RBS) and international private bank Julius Baer where he specialised in family office relationship management, financial structuring, and impact investment product design.
Having returned to Singapore nearly 3 years ago to launch Mainstream Renewable Power's Asia Pacific Headquarters, Ray is now Head of Capital Markets and responsible for managing strategic relationships with institutional debt and equity providers to fund Mainstream's global development portfolio of wind and solar projects.
Ray holds a Bachelor of Engineering (Honours) in Electrical Engineering from Queen's University Belfast.