Speaker Lineup Like No Other.
Inspiration Unlimited.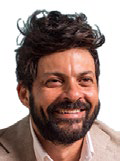 Abdelhamid Beshara
Founder & CEO
MASADER Environmental Solutions and Energy Services, Egypt
Dr. Beshara is the Founder and Chief Executive Officer of MASADER; Egypt's pioneer Resource Efficiency Consulting firm, specialized in Corporate Sustainability. He is a civil and environmental engineer with a professional and academic experience extending over 25 years. During this time, he has managed hundreds of civil and environmental, social, energy and integrated natural resource projects. He received his Environmental Engineering Ph.D. from Imperial College London in 2010 (UNWIN Prize and Imperial Innovators of The Year Award).
Beshara is a World Bank Environmental and Social Consultant in Egypt and the MENA Region and one of Egypt's United Nations Framework Convention on Climate Change (UNFCCC) Roster of Experts.   He is a Certified Energy Auditor (CEA), and a qualified UNIDO Energy Management and Energy Efficiency Expert. He is also accredited from the United States Green Building Council in LEED certification (LEED AP).
Beshara is playing an important role in expanding Egypt's sustainable development horizon through his delivery of various local and global initiatives. His efforts in the fields of sustainability have helped significantly pave the path for key corporate leaders in the market to plan, implement and certify their sustainability efforts. Beshara also has extensive hands-on experience in delivering environmental, social and governance (ESG) enterprise software and R&D projects.
Beshara is a strong advocate of entrepreneurship, eagerly researching and developing novel techniques to enhance sustainability efforts in Egypt. He is leading Masader's Incubator, which serves as a platform for accelerating promising ideas in the fields of sustainability and resource conservation. Masader's Incubator focuses on inventions in eco-friendly building materials and systems, waste management, energy efficiency, renewable energy products, and enterprise software solutions.