Speaker Lineup Like No Other.
Inspiration Unlimited.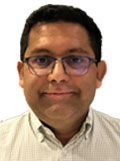 Saliem Fakir
Executive Director
The African Climate Foundation, South Africa
Saliem Fakir has over twenty years' experience in the field of renewable energy policy and financing. He is the Executive Director of the African Climate Foundation. Prior to establishing the ACF, Saliem served as the Head of the Policy & Futures Unit of WWF South Africa for 11 years. Saliem has worked as a Senior Lecturer at the Department of Public Administration and Planning and an Associate Director for the Centre for Renewable and Sustainable Energy at Stellenbosch University. Prior to that, he served as Director of the World Conservation Union, South Africa (IUCN-SA) for eight years. Saliem has served on a number of Boards and is a prolific writer who contributes regularly to leading South African publications like Engineering News, Business Day and the Daily Maverick.