Speaker Lineup Like No Other.
Inspiration Unlimited.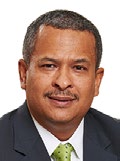 Brian Dames
CEO
African Rainbow Energy & Power, South Africa
Brian Dames is the Chief Executive of African Rainbow Energy & Power Pty Ltd ("AREP"), and the Former Chief Executive of Eskom Holdings SOC Limited, the national electricity utility in South Africa.
AREP is an energy company with a focus on clean energy solutions for Africa, based on renewables, hydro, gas and complimentary transmission investments.
Brian has 30 years' experience in the energy sector. He started his career with Eskom at the Koeberg Nuclear Power Plant. The complexity and diversity of Eskom's overall activities provided the opportunity for Brian to gain experience in the operations and management of a large national company. During his tenure at Eskom, Brian held various positions and was appointed Chief Executive of Eskom on 1 July 2010 and held this position until March 2014.
Brian plays a leading role in international and local business, is a member of the World Economic Forum's Global Council on the Future of Energy, a former member of the Administrative Board of Sustainable Energy for All, as well as Non-Executive Director of the Nedbank Group and the Industrial Development Corporation (IDC).
He is married to Stephney and the couple has two children, Christian and Nicole. Brian and Stephney love camping, the outdoors and are both keen golfers.
Brian holds a Bachelor of Science (Honours) from the University of the Western Cape in South Africa and a Master of Business Administration (MBA) from Samford University in the USA. He is also a graduate of the Senior Management Programme of the University of Stellenbosch in South Africa and holds a Graduate Diploma in Utility Management from Samford University in the USA.