Speaker Lineup Like No Other.
Inspiration Unlimited.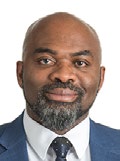 Chris Chijiutomi
Director
CDC Group, United Kingdom
Chris joined CDC in January 2017 and is now Head of the Infrastructure Equity team covering both Africa and South Asia. He has over 20 years of infrastructure experience in Europe and Africa across power, water, wastewater and transport sectors. Globeleq, Eneo, and Ayana Power are amongst the current portfolio of assets within his responsibility. One of the priority focus for Chris this year is the setting up of a CDC energy access company that will focus on investments within the transmission and distribution space, both on-grid and off-grid.
Prior to joining CDC, Chris was a founding member of the pioneer ARM-Harith Infrastructure Fund (ARMHIF), a West African focused infrastructure fund based in Nigeria. While at ARMHIF, Chris closed several equity investments including the 450MW Azura-Edo IPP in Nigeria and the 200 MW Amandi Energy IPP in Ghana. He previously worked at RWE Thames Water and at Veolia Environment, based in the UK.
Chris is a Chartered Engineer and holds an MEng in Chemicals and Process Engineering from the University of Surrey, as well as a CMS (General Management) from Kingston University.