Speaker Lineup Like No Other.
Inspiration Unlimited.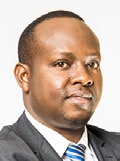 Cyprian Nyakundi
Director
Energy & Petroleum Regulatory Authority, Kenya
Cyprian M. Nyakundi is the Director Enforcement & Consumer Protection at Kenya's Energy and Petroleum Regulatory Authority (EPRA). He holds a Bachelor of Commerce (Finance) degree from University of Nairobi and an MBA in Strategic Management from the same University. Currently he is undertaking a PhD (Finance) at the University of Nairobi. Cyprian is a Certified Public Accountant Kenya, CPA (K) – Strathmore University, 2003. He is a member of the Institute of Certified Public Accountants of Kenya (ICPAK).
Cyprian is responsible for coordinating compliance checks on related works and services, investigation of complaints, dispute resolution, investigating allegations of contravention of codes, standards, regulations, energy related accidents and also development and implementation of consumer protection policies, creation of awareness of EPRA services to the stakeholders and ensuring effective collaboration with stakeholders among others.
Cyprian has thirteen years of practical experience in regulation having joined Electricity Regulatory Board (ERB) in March 2007 from the private sector and continuing with Energy Regulatory Commission (ERC) when it took over ERB's mandate in the same year. In year 2019, ERC changed its name to EPRA with additional mandate of upstream petroleum regulation among others. His achievements include playing a lead role in the review of power purchase agreements, setting of electricity tariffs, development of petroleum pricing regulations, 2010; draft electricity tariffs regulations, 2017; and draft regulatory accounts regulations, 2017. Cyprian chaired the petroleum pump pricing committee for 10 years (2009 – 2019) and was a member of the power purchase agreements review committee, Secretary to the electricity tariffs review committee for over ten years.
Cyprian was Kenya's first liaison officer for the Energy Regulators Association of East Africa (EREA) and was responsible for coordinating structures for co-operation, harmonisation and information sharing amongst the energy regulators in the region from inception to year 2019.