Speaker Lineup Like No Other.
Inspiration Unlimited.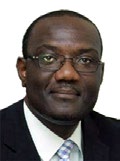 Oscar Amonoo–Neizer
Executive Secretary
Energy Commission, Ghana
Ing. Oscar Amonoo-Neizer is an accomplished engineer with over 25 years' experience in policy and energy management, electrical designing, testing and project coordination. He currently works at the Energy Commission of Ghana as the Executive Secretary providing strategic leadership, technical and administrative direction for the effective regulation and enforcement of operational rules of practice for the power and natural gas sector.
Prior to his appointment as the Executive Secretary to the Energy Commission, he worked with the Public Utilities Regulatory Commission (PURC) as the Director for Energy. He was responsible for Strategy and Policy Development, Monitoring and Evaluation, Technical/Advisory Support and Projects. He was also the Head of the Technical Regulation Division at the Energy Commission executing core duties related to the monitoring and enforcement of technical regulations for the electricity and natural gas industry (downstream), issuing of licences and permits to participants in the Wholesale Electricity Market (WEM) and the natural gas industry, development of legislative instruments and codes for the electricity and natural gas industry. He played key role in the development of codes and regulations such as the Electricity Grid Code, Electrical Wiring Regulations, Natural Gas Pipeline Safety Regulations and the updated Licence Application Manual for the Electricity and Natural Gas Industry.
Ing. Oscar Amonoo – Neizer has professional qualification in Utility Regulations and Strategy, holds an Executive MBA from the University of Ghana Business School, a postgraduate certificate from Fachoschule Aachen, Germany and a BSc. Electrical/Electronic Engineering from the Kwame Nkrumah University of Science and Technology, Ghana.