Speaker Lineup Like No Other.
Inspiration Unlimited.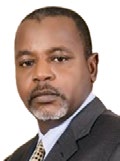 Haliru Dikko
Commissioner
ECOWAS Regional Electricity Regulatory Authority
DR HALIRU DIKKO is the Commissioner/Council Member-Economist at the ECOWAS Regional Electricity Regulatory Authority (ERERA), based in Accra, Ghana. Before his appointment by ECOWAS, he works with the Nigerian Electricity Regulatory Commission (NERC) for over 10 years as General Manager and Head of Market Competition, Tariff and Rates Division.
Prior to joining the NERC in Abuja, Dr. Haliru worked in the banking and finance industry for over seventeen years. As Commissioner/Council Member-Economist, he is one of the key decision makers and lead on matters pertaining to economic regulations. His responsibilities among others were; leading the development of the ECOWAS electricity regional market, setting up of a clear and transparent tariff setting methodology, assisting in the harmonisation of regulatory framework in ECOWAS member states, establishing effective dispute resolution procedures and he also the lead Economic Adviser of ERERA.
Dr. Dikko has led many discussions and presented research papers on investment, Islamic finance, electricity pricing & tariff and market reforms. He was previously an adjunct lecturer, Electricity Economics at the University of Ibadan, Nigeria and a visiting Senior Lecturer at the Department of Economics, Usmanu Dan Fodio University Sokoto.
Dr. Dikko holds a PhD in Economics from the Usmanu Dan Fodio University, Sokoto and an MBA from the Ahmadu Bello University, Zaria, Nigeria. He is a fellow of the Chartered Institute of Bankers and Certified Regulation Specialist.