Speaker Lineup Like No Other.
Inspiration Unlimited.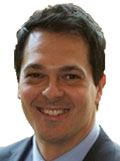 George Conde
Chief Operating Officer,
Groupe Filatex, Madagascar
George Conde is the COO of Groupe Filatex, a leading African player in renewable energy, free zones and real estate based in Madagascar. Groupe Filatex is one of the top energy providers in Madagascar, specialising in solar energy, with projects under development in four other sub-Saharan African markets.
George is a seasoned emerging markets specialist with decades of experience in corporate strategy and finance. He is a highly skilled negotiator, and he is currently leading Groupe Filatex's international expansion, helping to realise the business's African and global ambitions.
George has an MBA from Georgetown University and a Corporate Finance degree from HEC business school in Paris. He is fluent in English, French and Spanish.