Speaker Lineup Like No Other.
Inspiration Unlimited.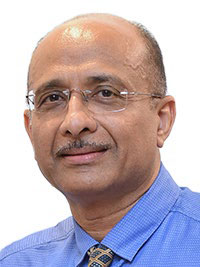 Anand Menon
CTO
Siemens, Malaysia
Mr. Anand Menon is currently the CTO, Engineering & Technology in Energy Management division for the ASEAN region.
His experience and expertise in the area of electrical power spans across utilities and manufacturing concerns over a period of 34 years. With a seven year utility background in Transmission & Distribution, he proceeded to specialize in the area of electrical protection and control. This led him to serve Asea Brown Boveri (ABB) in countries in the Middle East, South East Asia and Western Europe.
Anand has been responsible for designs in major projects like China's Three Gorges, 500kV Malaysian corridor etc., giving lectures in the ABB University in Baden, Switzerland besides playing a key role in standardization. He has also been actively involved in CIGRE from Switzerland besides being regular member in different working groups.
As the CTO, he actively pursues smart grid opportunities in the region. He also heads the Committee on IoT at the European Union Malaysia Chamber of Commerce & Industry (EUMCCI).