Speaker Lineup Like No Other.
Inspiration Unlimited.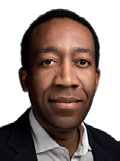 Ademola Adesina
CEO
Rensource Energy, Nigeria
Ademola Adesina is Founder and CEO of Rensource, a leading provider of energy and payment services to SMEs in West Africa.
Rensource was the 2019 winner of the Financial Times / IFC Transformational Business Award for Climate and Urban Infrastructure Solutions.
Working with entrepreneurial management teams in challenging operating environments, Ademola has focused on building or turning around early and growth stage enterprises for much of his career.
Beginning in 2007 with Agrica, an East African agricultural concern, and subsequently Automatiks, a California based integrator of hybrid power solutions, AST, a leading provider of Power-as-a-Service in India, and Pagatech, a Nigerian mobile payments company, Ademola was Entrepreneur in Residence for Capricorn Investment Group, the Palo Alto based investment arm of Jeff Skoll.
Ademola previously led business development and corporate strategy for Aquifer, a London based investment company affiliated with the family office of Lord Sainsbury and the Gatsby Trust. In this capacity, he undertook activities that represented strategic support for developing, strengthening, and growing Aquifer's businesses.
He joined Aquifer from the Rockefeller Foundation in New York, where he was a founding member of the Innovation for Development & Impact Investing initiatives.
Ademola began his career in the Global Markets division of JPMorgan's investment bank in New York, where he was responsible for the structuring and distribution of financial derivatives.
Ademola has lived and worked in Africa, the USA, and Europe.