Speaker Lineup Like No Other.
Inspiration Unlimited.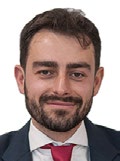 Mikhail Nikomarov
CEO
Bushveld Energy, South Africa
Mr. Mikhail Nikomarov is the Co-founder and Chief Executive Officer of Bushveld Energy, an energy storage solutions company, part of AIM-listed Bushveld Minerals, an integrated vanadium company. He is also Chairman of the South Africa Energy Storage Association (SAESA) and Chair of the Energy Storage Committee of Vanitec, the global non-profit association of vanadium producers.
He has previously worked for McKinsey & Company in Russia and across Africa, focusing on the power sector (strategy and plant operations) and economic development.
Mikhail's corporate career started as a commercial banker in the USA