Speaker Lineup Like No Other.
Inspiration Unlimited.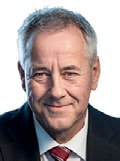 Peter Pechtl
Managing Director
ENEXSA, Austria
Dr. Pechtl has over thirty years of experience modeling the performance of advanced energy systems, mainly in the field of combined cycle power plants. His work includes development and application of on-line performance monitoring systems as well as research related to power plant technology, system studies on coal-gasification combined-cycle technology, in-depth use of computer-aided process design and system analysis software. He is a recognized expert in the field of IGCC and combined cycle based power and water production plants.
Dr. Pechtl was a co-author of the GateCycle™ simulation code, which is used world-wide by hundreds of major industrial, research, and utility organizations to study the design and off-design performance of gas-turbine-based power plants, both existing and conceptual. His contributions to the GateCycle code extended its use for fossil-fuelled power plants for both conventional and advanced systems.
In his role as chief technologist for power plant engineering, Dr. Pechtl supports the development of ENEXSA software products and acts as advisor for the development and enhancement of the EBSILON®Professional heat balance software by STEAG Energy Services.