Speaker Lineup Like No Other.
Inspiration Unlimited.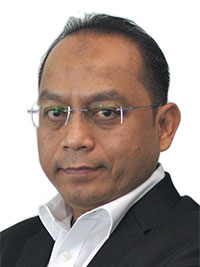 Abdul Razib Dawood
Acting CEO
Energy Commission, Malaysia
Abdul Razib Dawood is an engineer with twenty years experience in the electricity supply industry, having worked both with Malaysia and Australia national power utility, independent power producer (IPP), transmission network service provider (TNSP) and renewable energy consultant. He held numerous roles such as construction engineer, system planning engineer, project manager, technical advisor and power system study specialist.
Prior to the Chief Operating Officer (COO) position, he was with Energy Commission (EC) of Malaysia as the Head of Electricity Market Operation from October 2012 to August 2017. Then he was assigned by Prime Minister's Department to head the Malaysia Nuclear Power Corporation (MNPC) as Chief Executive Officer. In April 2018 he was appointed COO of EC to manage overall daily operations activities of EC.