Speaker Lineup Like No Other.
Inspiration Unlimited.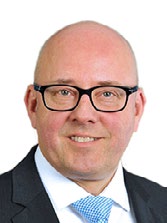 Ingo Birnkraut
CEO & Managing Director
RWE Technology International, Germany
As CEO and Managing Director of the company, Ingo focuses on the strategic leadership of the firm, Sales & Business Development as well as taking responsibility for all commercial teams. He has served the Engineering, Consulting and EPC business for 30 years in different segments as Energy, Oil & Gas or Chemicals, and has been instrumental in helping drive strategic growth and positioning. Prior to joining RWE in 2006, he was 15 years intimately involved in all aspects of project management and business development in the engineering and construction energy industry on a global basis. This experience has made him keenly aware of the importance of service discipline within the firm coupled with understanding how customer relationships are a key component to achieving RWETI's strategic goals. Ingo earned his diploma degrees in economics and physics from the University Hamburg, Germany and University Grenoble, France.