Speaker Lineup Like No Other.
Inspiration Unlimited.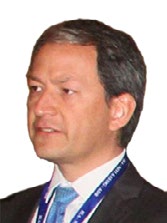 Alejandro Hernandez
Head of Renewable Integration Unit
International Energy Agency, France
Cesar Alejandro Hernandez is the head of the Renewable Integration and Secure Electricity Unit at the IEA. Mr Hernandez joined in 2017 to work in Electricity Market Design, Electrification and Power sector Decarbonisation strategies. Before he held the position in the Mexican Government as Managing Director for Analysis and Market Surveillance, where he participated in the design and implementation of the Power Sector Reform. Prior to this position, he was an advisor to the Finance Vice Minister in Mexico in energy and environmental issues.  From 2007 to 2011 Mr Hernandez was Deputy Chief Economist, at Comisión Federal de Competencia, the Mexican Antitrust Authority.
He holds a PhD in economics by the University of Toulouse in France, and a BA in Economics by the ITAM.