Speaker Lineup Like No Other.
Inspiration Unlimited.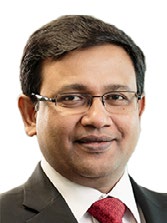 Narsingh Chaudhary
Managing Director, Power – Asia
Black & Veatch, Thailand
Business professional with more than 26yrs of International Business Experience with diverse roles handling various functions in General Management, Corporate Strategy, Sales & Project Management.
His current position is Executive Vice President & Managing Director of Power Business, Asia with responsibility for the regional profit and loss (P&L) center in Asia/India covering Services to Lumpsum Turnkey for Conventional Generation, Renewables, Transmission and Distributed Energy.