Speaker Lineup Like No Other.
Inspiration Unlimited.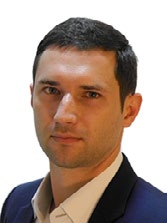 Martin Angelov
Senior Vice President, APAC Project Finance
Korea Development Bank
Martin is a Senior Vice President in the KDB Singapore Project Finance team and is responsible for analysing, structuring and execution of project finance transactions. He has worked on a variety of lending and advisory transactions with KDB since Nov 2016 and previously at PwC (with stronger focus on advisory).
Martin's experience in Advisory services expands into the various sectors and modalities of Public-Private-Partnership projects (PPPs) in Asia Pacific. This includes various Transport and Social infrastructure projects, including the largest stadium PPP in the world – the USD 1.5bn Singapore Sports Hub, which is operational since June 2014.
Since joining KDB in 2016, Martin worked on a number of Social Infrastructure and Power & Utilities projects, especially in the Renewable sector. While Australia was more successful country to close projects, Martin and the team also looked at a number of projects in South East Asia at different stages of development.
Martin's key areas of expertise include financial modelling, risk strategy, transaction structuring, funding support, bid optimisation and post financial close implementation. He has built, supervised and audited robust financial models for a number of significant infrastructure transactions. He has also been actively involved in project finance business development activities in Asia and Europe.
Martin holds a BSc. (Hons) in Banking and Finance from the London School of Economics and Political Science.
Martin is also an International Project Finance Professional and a Chartered Accountant in Singapore under the Institute of Singapore Chartered Accountants