Speaker Lineup Like No Other.
Inspiration Unlimited.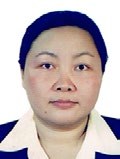 Santisouk Phimphachanh
Deputy Director General
Ministry of Energy and Mines, Laos
Member of ASEAN Power Grid Consultative Committee APGCC (HAPUA)

Technical Taskforce TTF of Power Border Trade Laos –Thailand – Malaysia – Singapore (LTMS-PIP)
Education and Professional Experience: After earning her degree in Electrical Engineering from the Faculty of Engineering, National University of Lao PDR, she was employed for 4 years in the Department of Electricity, from 1998 to 2003, she worked at the Ministry of Industry and Handicrafts. From 2003 to 2005 she studied at the Faculty of Engineering, King Mongkut's Technology of University, Thonburi, Thailand, graduating with a Master's of Electrical and Information Engineering. 2005-2010, she continues to study for her Doctorate of Engineering on Electric Power System Management in the School of Environmental, Resources and Development at Asian Institute of Technology, Bangkok, Thailand. in 2010 She returned to work at the Department of Electricity in Ministry of Energy and Mines. From 2012 to June 2020, she has served as Director of the Power System Planning Division Department of Energy Policy and Planning, from July 2020 until present she was a Deputy Director General of Department of Energy Policy and Planning, Ministry of Energy and Mines.
Expertise: 20 years' experience on Transmission Line Planning and Inspection and Interconnection Plan, prepare draft of Energy Policy, National Power Development Plan, work with JICA expert team for Master Plan study of Lao Power Network development, prepare plan for vision and strategy of Energy sector and 5 year social economic plan, providing review and comments on F/S of Transmission Line, Substation and Distribution Planning, She is a member of the Working Group for preparing Power System Study and Transmission Lines and Substations for Power Development Plan and alternative of Power Generation, power trade Market; and data collection for demand forecast and the interconnection point as a corridor for the power trade in the ASEAN Power Grid and GMS region. She has participated in numerous international forums, advocating sustainable development of the power sector to earn foreign reserves from energy exports to help electrify the countryside, alleviate poverty and ensure a brighter future for the people of Lao PDR.