Speaker Lineup Like No Other.
Inspiration Unlimited.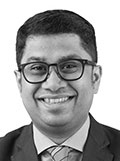 Shahwar Nizam
Partner and Managing Director
DFDL, Bangladesh
Shahwar Nizam is a Partner and Managing Director of DFDL in Dhaka, Bangladesh. His practice focuses on advising on the development, financing and acquisition of power, energy and infrastructure projects. He advises developers, investors, EPC contractors as well as lenders, both local and international. He is very active in foreign direct investments related work, cross-border M&A and joint ventures.
Highly-regarded by his international clients, Shahwar has worked across a wide range of industries and sectors, with a particular focus on, power and energy, financial institutions, telecommunications, manufacturing and more recently in IT enabled services industry, mobile financial services as well as fin-tech. Shahwar regularly provides commentary on investment trends in Bangladesh.