Speaker Lineup Like No Other.
Inspiration Unlimited.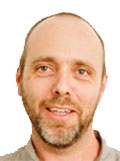 Evan Beaver
Head of Charging,
Chargefox, Australia
Evan is a mechanical engineer, mostly practising as an electrical project manager. He's been fortunate to be central to most of the electric vehicle infrastructure built in Australia, leading Tesla's charging program from 2014 to 2017, and more recently as Head of Charging for Chargefox where he has just completed their 350kW intercity network, linking cities 4,000km apart. As a charging network operator, Chargefox is the largest in Australia, with about 2,000 plugs under management.