Speaker Lineup Like No Other.
Inspiration Unlimited.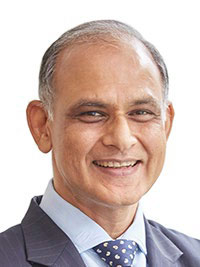 Sunil Gupta
Regional Head, SEA and South Asia
Vena Energy, Singapore
Sunil is a business leader with global experience in renewable energy, new energy and digital technologies. He has two decades of experience with disruptive solutions and business models in semiconductors, electronics, Internet and energy.
Sunil has been involved in the renewable energy industry for more than a decade. He joined Sembcorp in January 2015. Over this period, Sembcorp's renewables portfolio has grown from 400MW in China to 2,600MW spread across five countries.
Prior to his current role, Sunil was the Global Head of Cleantech Banking at Standard Chartered and Global Head of Technology and Global Cleantech Research at Morgan Stanley. During his term, Sunil steered these institutions to win many prestigious industry awards. He has had a first-hand experience of participating in the emergence of cleantech companies in Asia, Europe and the US. Over last 15 years he has led numerous capital markets, project financing and structured credit solutions for Cleantech and renewable companies in multiple regulatory and financial markets. Sunil has extensively engaged in discussions with regulators in structuring and formulating policies for renewable energy.
Sunil earned B. Tech in Electrical Engineering from Indian Institute of Technology, Delhi and MBA from Indian Institute of Management, Ahmedabad, both in India.