Speaker Lineup Like No Other.
Inspiration Unlimited.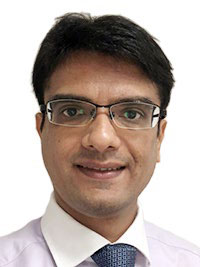 Sujay Shah
Executive Director, Cleantech Coverage
Standard Chartered, Singapore
Sujay Shah is a finance professional with over 14 years of banking and advisory experience across Asia and North America.
Sujay heads Standard Chartered Bank's Clean Technology Coverage team. In his current role, he has been instrumental in providing strategic advice and assisting numerous Cleantech focused companies to raise both debt and equity capital. Key sectors include renewable energy, batteries, water treatment, waste processing, waste to energy etc. Marquee clients whom he has worked with include Sembcorp, Adani, GCL, Engie amongst others.
Marquee transactions include:
Buy-side advisory to an international fund for acquisition of an Indian solar portfolio (Closing / Documentation)
Debut USD bond issuances for Indian, Chinese and Thai renewables platforms (Ongoing)
USD 250m project financing for Adani's 350MWac Wardha Solar power project (2018)
USD 300m syndicated term loan financing for Xinjiang Goldwind Science & Technology (2018)
USD 500m bond issuance for GCL New Energy Holdings Limited (2018)
Buy-side advisory to an international fund for acquisition of Equis, a pan-Asian renewable platform (Unconsummated)
Buy-side advisory to BCPG for acquisition of SunEdison's solar PV portfolio in Japan (2016)
Buy-side advisory to Asian Power company for the acquisition of Solairedirect's Indian Solar portfolio (Unconsummated)
Financial Advisor to Sembcorp Utilities acquisition of majority stake in renewable energy company Green Infra (2015)
Sell-side advisory for a pan-ASEAN renewable platform (Unconsummated)
Financial Advisor to SunEdison's acquisition of China based wind energy company Honiton Energy (2015)
USD 550mn bond issuance for renewable IPP Greenko Plc (2014)
CNH 560mn bond issuance for China Singyes Solar (2014)
Proposed Business Trust Listing for Mytrah Energy Limited (Unconsummated)
Proposed IPO of Inox Wind on Mumbai Stock Exchange (Unconsummated)
USD 45mn project financing for Sunedison's Malaysian solar assets (2013)
USD 20mn project financing for Green Infra's Indian solar assets (2013)
USD25mn loan to Jackson Power for financing solar farms capex (2012)
Term loan facility to ReGen Powertech (2012)
Prior to this role, Sujay has worked in Lehman Brothers / Barclays Capital in New York and at Morgan Stanley in Singapore.
Sujay is a Chartered Accountant, a MBA from Indian Institute of Management, India and holds a Masters in Commerce Degree from Mumbai University.